INDUSTRY 4.0 – ELICITING EMERGING OPPORTUNITIES IN THE NEW MILLENNIUM
A fourth industrial revolution, known as Industry 4.0, has evolved in recent decades. Industry 4.0 takes the emphasis on digital technology from recent decades to a whole new level with the help of interconnectivity through the Internet of Things (IoT), access to real-time data, and the introduction of cyber-physical systems. Industry 4.0 offers a more comprehensive, interlinked, and holistic approach to manufacturing. It connects physical with digital and allows for better collaboration and access across departments, partners, vendors, products, and people. Industry 4.0 empowers business owners to better control and understand every aspect of their operation and allows them to leverage instant data to boost productivity, improve processes, and drive growth.
The Research Promotion and Ethics Committee (RPEC), Mar Ivanios College (Autonomous), in collaboration with the Research and Post Graduate Department of Commerce, Department of Economics and Department of Tourism will be hosting a "Three Day International Conference on Industry 4.0 – Eliciting Emerging Opportunities in the New Millennium". This conference is made possible with the support of several accredited journals. This conference is also calling for research articles and papers from scholars, researchers, and students from all over the world. There are four themes with various topics covering commerce, economics, and tourism. The conference will be a forum where fellow academics share experiences, exchange knowledge, work hand-in-hand, and find managerial and entrepreneurial solutions for a sustainable business world. The detailed information is available on the website. Website: https://www.marivanioscollege.com
CALL FOR PAPERS
Authors are invited to submit their original and unpublished manuscripts based on research, experiences, value-based decision making or promising ideas that demonstrate research focusing on a variety of aspects needed to achieve strategies for excellence.
SUB THEMES
WORLD TRADE AND THE GLOBAL ECONOMY
* WTO * Trade wars * Currency volatility * Monetary stability * Regional economic crisis * World trade and the Asian Economy
TRANSFORMING TOURISM IN THE NEW MILLENNIUM
* Tourism 4.0 * Tourism Trends, Demography and Tourist Behaviour * Tourism Modelling * Innovation in Tourism Industry * Visitor Pattern in the Emerging Economies
INDIA UNDER THE INDUSTRIAL REIGN
* Forex Management * World Trade EXIM Opportunities * Addressing Developmental Needs of the Less Developed Countries * Emerging Opportunities for the Indian Industries * Business Regulatory Framework for Indian Industry
INDUSTRY IN THE NEW MILLENNIUM
* Global Financial Markets * International Human Resource Management * Multinational Corporations * IT Enabled Information Systems * AI and Global Industry
* OTHER TOPICS RELATED TO THEMES & SUB-THEMES ARE ALSO WELCOMED.
** THEMES AND SUB-THEMES ARE INDICATIVE. AUTHORS CAN SUBMIT PAPER(S) ON ANY TOPIC RELATED TO THE THEME OF THE CONFERENCE.
SUBMISSION GUIDELINES
* Authors should submit their original and unpublished papers in word format. * The manuscript should not be under the process of publication or should not have been submitted to any journal. * Abstract of not more than 300 words and 5-7 keywords bearing the author's name(s), contact details and e-mail id(s) should be emailed to: internationalconference@mic.ac.in * Full paper should have a separate cover page bearing only the title of the paper and author's name, designation, and official address along with phone number and e-mail address. * Full paper should not exceed 5000 words (all-inclusive) and APA format (Times New Roman, 12pt, single spacing) should be followed throughout the manuscript. * Authors will be notified about the acceptance of their paper(s) for presentation through email, after which the process of registration will begin. * Registration will be confirmed only after the payment of the registration fee and at least one author must be present for the conference and paper presentation. * Registration form is available on the conference website. * Co-authors are required to register and make the payment separately for attending the conference and to get a presentation/ participation certificate.
PUBLICATION OPPORTUNITY
* Selected papers will be invited for review and potential publication in the proposed journal of Mar Ivanios College, "International Journal of Economics and Business Studies" and ISBN Edited Books. * The papers shall be selected for publication strictly on a merit basis and authors will not be charged a separate publication fee for the accepted papers.
IMPORTANT DATES
Abstract submission deadline : 5 th July 2022 Abstract acceptance notification : A week after abstract submission Full paper submission deadline : 20 th July 2022 Last date for registration : 10 th July 2022 Conference dates : 25 th – 27 th August 2022
REGISTRATION FEES
| | National | Foreign |
| --- | --- | --- |
| Students & Research Scholars | Rs. 1000 | $50 |
| Academicians | Rs. 1500 | $100 |
| Corporate Members | Rs. 2000 | $200 |
* Registration fee is inclusive of paper presentation, keynote and breakdown sessions, certificate, conference kit, lunch, and publication in proceedings. The Registration fee will be charged per author. * Registration fee doesn't include the fee for accommodation.
PAYMENT QR CODE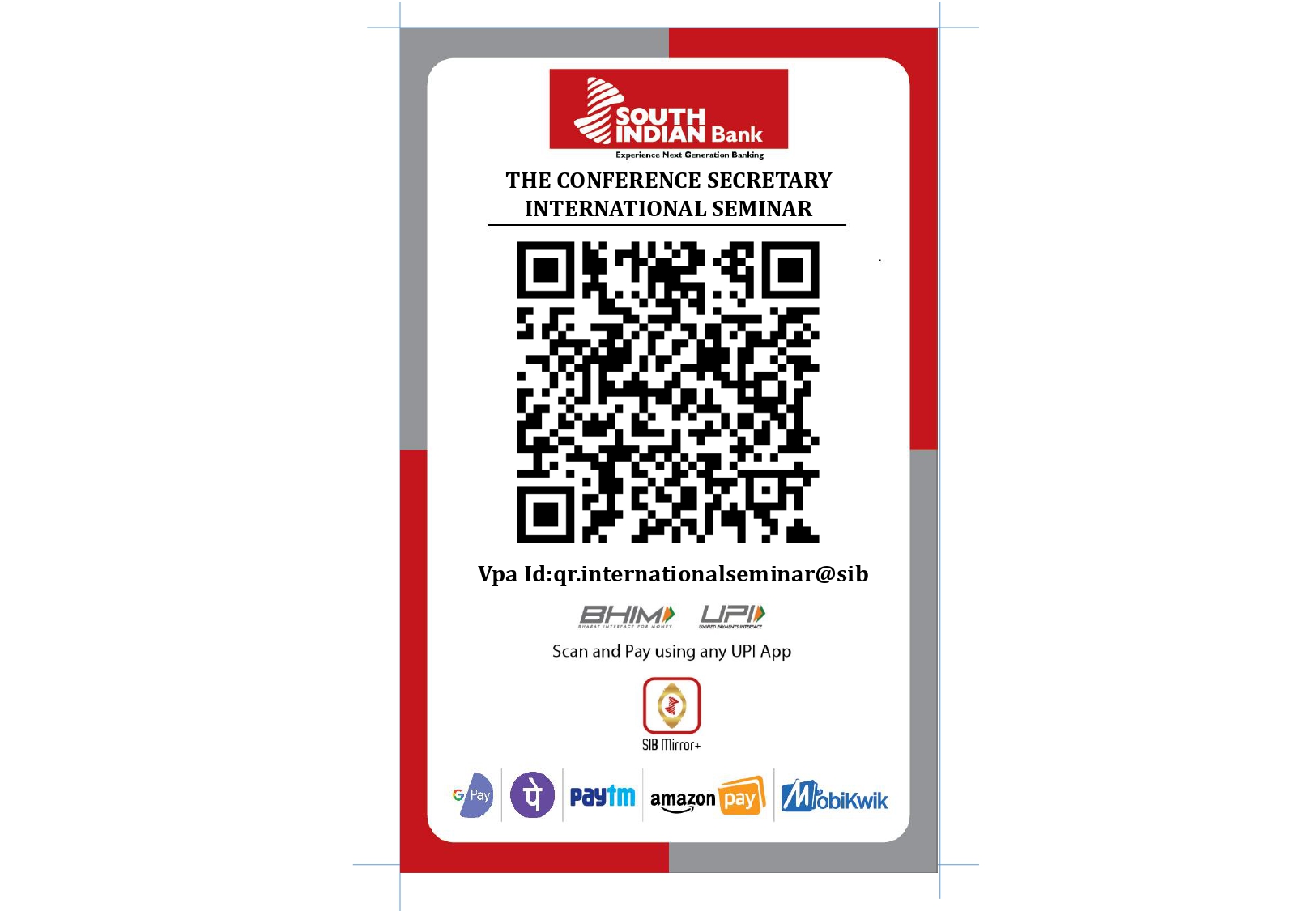 ACCOMMODATION DETAILS
Accommodation facilities will be provided to the participant's on-demand basis and participants have to make payment separately for the accommodation provided. The registration fee collected doesn't include the fee for accommodation.
MODE OF PAYMENTS
Registration fee can be remitted through online mode (Net Banking, NEFT, IMPS, RTGS) or DD drawn in favour of The Conference Secretary, International Seminar payable at South Indian Bank Nalanchira
| | |
| --- | --- |
| A/c No : 0483073000000207 Branch Name : South Indian Bank Nalanchira S Branch Code : 0483 IFSC : SIBL0000483 | For International Fund Transfer SWIFT Code: SOININ55 |
ORGANISING COMMITTEE
Chief Patron His Beatitude Moran Mor Baselios Cardinal Cleemis Catholicos Major Archbishop of Trivandrum
Patron Dr. Jijimon K. Thomas Principal
| | |
| --- | --- |
| Conference Secretary Dr. Annamma John Professor & RPEC Convenor Mar Ivanios College (Autonomous) Email: annamma.john@mic.ac.in Mob: 9495244175 | Organising Secretary Dr. Arun Lawrence Assistant Professor Department of Commerce Email: arun.lawrence@mic.ac.in Mob: 9947031483 |
| | |
| --- | --- |
| Dr. Suboj Babykutty Assistant Professor & RPEC Member Mar Ivanios College Lt. Dr. Regina Sibi Cleetus Assistant Professor & Head Department of Commerce Mr. Manasse Benny Assistant Professor & Head Department of Tourism Ms. Liji D. Assistant Professor & Head Department of Economics | Daisy Samuel Assistant Professor, Department of Commerce Dr. Ratheesh R. Assistant Professor, Department of Commerce Ms. Soumya M. Raj Assistant Professor, Department of Tourism Dr. Abhilash Ramesh Assistant Professor (On Contract) Department of Economics |
| | |
| --- | --- |
| Dr. Daisy Samuel Assistant Professor Department of Commerce Mob: 9447386671 Dr. Abhilash Ramesh Assistant Professor (On Contract) Department of Economics Mob: 9899746798 | Dr. Ratheesh R. Assistant Professor Department of Commerce Mob: 9495394372 Mr. Rajesh A. Research Scholar Department of Commerce Mob: 9074068479 |
Mail to: internationalconference@mic.ac.in
SCAN FOR REGISTRATION